The Himalayan Mountaineering Institute (HMI) museum was established in 1957. Its objectives are to facilitate educational activities on mountaineering and mountain environment, preserve the works of the Himalayan art and culture, and document the history of Himalayan Mountaineering. Every year nearly half a million tourists, mountaineers, and researchers visit this museum.
The main attraction of the museum is Himalayan, Flora, Fauna, and the art and culture of the Himalayan Region. Another section that draws a large crowd is the one where the evolution of mountaineering equipment is displayed. The section in which the equipment of the first ascent of Mount Everest in 1953 is displayed, is also very popular. The museum is situated in the Center of HMI on a slightly raised ground with a magnificent view of Kanchenjunga.
The museum is a repository of models, paintings, sculptures, photographs, manuscripts, books, monographs, artefacts, and equipment related to Mountaineering and the people of the Himalayas. Himalayan climbing art, culture, and dress and personal belongings of hills folks are also displayed. The museum is curated by Shri Chandranath Das, who is not only qualified as an artist/curator with a graduate degree from the Government College of Arts Kolkata and a postgraduate degree from Italy. He is a qualified mountaineer and an avid painter. His contribution to maintaining the fine collection at the museum is immense.
The Museum has three sections: Mountaineering History, Mount Everest Expedition and A Panorama of Himalayan Life
MOUNTAINEERING HISTORY SECTION
A relief of the entire Himalayan range displays its prominent peaks, glacier and river systems. The Section also has artefacts related to the evolution of climbing techniques and equipment used in climbing, Flags, Badges of honour, medals, monograms of various Alpine clubs from all over the world are also on display here.
MOUNT EVEREST SECTION
The chronology of mankind's fascination with challenging the might of Mount Everest has been documented and displayed in this section in great detail. The Discovery of Peak XV as the highest point on the earth by Shri Radha Nath Sikder of Survey of India and naming of this peak in honour of the then Surveyor General of India George Everest, as Mt. Everest is also documented here. The Collection in Mt. Everest section can be subdivided into the following sub exhibitions.
A PANORAMA OF HIMALAYAN LIFE
The collection includes a large number of artefacts and models connected to art, culture, socio-economic life, flora and fauna of Himalaya. The samples of rock, minerals and photographs detailing the lifestyle, religion and life of the Himalayan people are displayed in this section. The Veb Carl Zeiss telescope presented by Adolf Hitler to General Shamsher Jung Bahadur Rana, Commander-in-Chief of the Nepalese army, is on display. General Rana presented it to the Institute on 7th July 1961. This telescope is an important link between HMI and the Govt, of Nepal. There is a section on the type of clothing worn by the people of the region. Birds and animals found in the Himalayan Region are also showcased here with special emphasis on endangered animals.
The park is the first of its kind in the North East and is located on the premises of HMI. The adventure park emerges as a popular tourist destination. Tree Top Theme Park consists of 11 obstacles including Zip Line.
"The difficulty level of obstacle varies from simple, moderate to difficult. Tourist including children above 7 years can undergo this obstacle course as "Walk-in-entry" or pre-booking", said the Principal.
The park will include tunnel crossing, dangling crossing bridge, Block Crossing, rope swing bridge and obstacles. The obstacles are spread over a 50-meter area from tree to tree.
"The obstacles crossing help individuals, from kids to elderly to overcome fear and in time of distress react bravely," added Group Captain Jai Kishan.
All necessary steps gave been adopted to make it absolutely safe. The obstacles are installed 15-30 feet above the ground and are operated by qualified instructors and certified safety equipment. Safety line and anchors have been installed.
"The premier mountaineering institute has been promoting tourism, adventure sports as well as sensitizing people on issues like environment.
The HMI is equipped with a well stocked library, which has now more than 2800 books covering a wide range of subjects, principally mountaineering, as also on travel and exploration, astronomy, geology. Flora, fauna etc. valuable additions have been contributed from time to time by many institutions including Swiss foundation for Alpine Research, German Alpine Club, French Mountaineering foundation, Ski Clubs of Japan and Canada, Everest foundation of U.K. and General Shamsher Jung Bahadur Rana of Nepal. It is equipped with a complete set of alpine club and Himalayan Club Journals and also large number of other journals presented by mountaineering clubs and associations in India and abroad.
Named after Late Major Nandu Jayal, the first Principal of the Institute, the Jayal auditorium can accommodate more than 225 students at a time. It is used for lectures, demonstrations and also to show various training films to both students and visitors.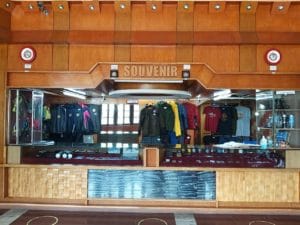 Souvenir Shop at HMI enables visitors and trainees to take home various kinds of mementoes, literature, prospectus and souvenirs showcasing HMI activities. These items are available at subsidized prices.
Mountaineering requires an optimum level of physical fitness. In an effort to improve the physical strength of the instructors and the trainees, the Institute has constructed a fully equipped Gymnasium fitted with the latest state-of-the-art gym equipment. A trained gym instructor has been appointed on a contractual basis to guide the gym users.
All students attending courses at HMI are accommodated in a well-furnished hostel. It can accommodate 150 students at a time. Trainees are served sumptuous hot meals in the dining hall on the ground floor.
HMI provides several other facilities to its trainees during their stay at HMI
Medical Wing: Medical Inspection Room (Ml Room) is looked after by Medical Officer and nursing Assistant and is equipped with the latest medical equipment. Necessary medical cover is provided during the course period.
Equipment Wing: The Institute maintains an equipment wing to provide the latest mountaineering gears to its trainees, free of charge. Jayal Memorial fund store, a part of the equipment wing, provides equipment to adventure lovers on hire. The equipment is provided on a first come first serve basis.
Indoor and Outdoor Training Aids: HMI has state of art Indoor Training facility. The Institute has a 50′ x 20′ Sport climbing wall of international standard. It has also got an indoor training wall and well laid out obstacle training area within the institutes complex. Tenzing and Gombu Rocks which are located very close to the Institute provide practical training to the students on the natural rockfaces.