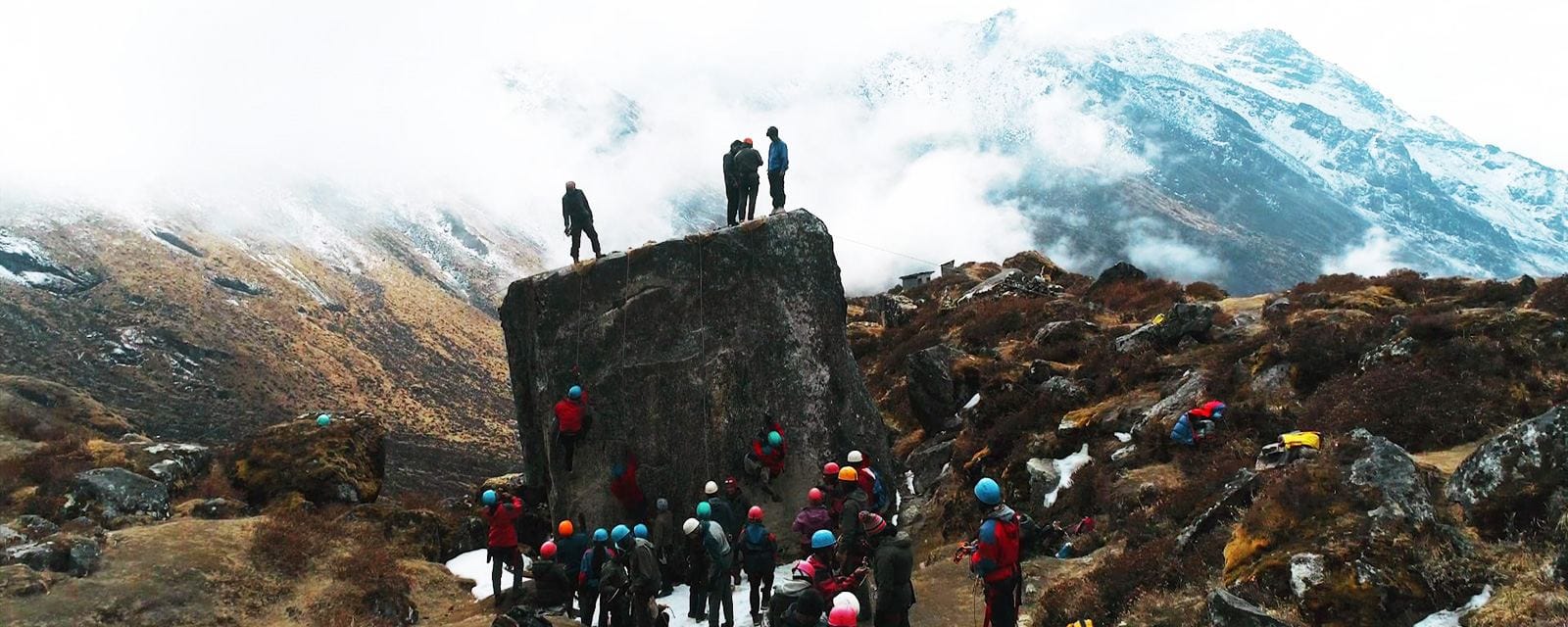 A trainee should be able to communicate, read, and understand either Hindi or English.
| | |
| --- | --- |
| Sl. | Details |
| 1 | ADVANCE MOUNTAINEERING COURSE: Trainees graded "A" in Basic Mountaineering Course from HMI Darjeeling, NIM Uttarkashi, JIM Pahalgawn, NIMAS Dirang, ABVIMAS Manali, HAWS C/O 56 APO, ITBP Trg Centre Auli, and SGMI Gangtok are eligible to apply for this course. |
| 2 | METHODS OF INSTRUCTION and SEARCH & RESCUE COURSE: Trainees graded "A" in Advance Mountaineering Course can apply; trainees should have passed class-XII. |
| 3 | EXPEDITION: Trainee should have completed Basic Mountaineering Course with an "A" grade. |
Seats are allotted on "First Come First Served Basis". Course Aspirants should check with HMI Training Office for seat availability and apply only for courses in which seat is available. Application form along with Medical Certificate, course fee & proof of date of birth is to be sent to HMI by post/courier. Documents sent through e-mail will not be accepted (except foreigners). Foreigners & Indian citizens are willing to pay the same course fee as foreigners may avail walk-in admission in the desired course. They may report to HMI training office one day in advance for direct admission into a course. Foreigners are to forward the following details for government clearance.
| | | | |
| --- | --- | --- | --- |
| (a) Name in Block letters | (b) Father's name | (c) Date of birth | (d) Nationality |
| (e) Passport number | (f) Visa Number & validity | (g) Permanent address | (h) email id & contact no |
| (j) Educational qualification | (k) Occupation/ Profession | (l) Marital status | (m) Local address (if any) |
Application Form and Medical Certificate
Application & medical form can be downloaded from our website www.hmidarjeeling.com 
Fresh medical certificate (not more than 6 months old) duly signed by a Doctor with proper seal and registration number to be submitted in HMI Training Office at the time of reporting. Covid-19 Test and other advisories issued by Govt of India to be followed strictly.

APPLICATION FORM

MEDICAL CERTIFICATE
A test of Fitness will be conducted for Course participants to assess the mental & physical fitness for training at high altitude areas/ mountains. Minimum three months regular exercise before reporting for the course is essential to pass the test which includes 15 km trekking up and downhill with 15-18 kg load within a given time and other tests.
Trainees failing the test would be sent back from HMI without any refund of the course fee. 
Routine Pre-Course Workout Plan is available on HMI website.
Course fee can be remitted through Demand Draft / NEFT / online payment / direct payment into State Bank of India, Darjeeling Branch. A/c Name : Principal, Himalayan Mountaineering Institute, A/c No. 10833276127 (NEFT IFS Code: SBIN0000063, MICR Code No 734002101, SWIFT code: SBININBB335).
PART PAYMENT / CHEQUES / MONEY ORDERS WILL NOT BE ACCEPTED.
Demand Draft is to be in favour of "Principal HMI Darjeeling". Foreigners may exercise the option of direct/online payment or cash payment at USD to Indian rupee exchange rate of the day at the time of joining the course. The course fee is all-inclusive, no separate payment is to be made for food, accommodation, equipment, transportation, medicines, and other training expenses during the course.
Courses conducted at HMI are highly subsidised and the vacancies are limited. Repeating a course by an individual leads to a denial of opportunity to another deserving candidate. One cannot repeat the same course at a subsidized fee even if the individual had been awarded 'B/C/U' Grade in the course. In case it is found that a trainee is repeating the course, he/she would be sent back, course fee forfeited & certificate, if issued, will be treated null and void. There is no restriction on the repetition of course for foreigners and individuals undergoing special courses which are conducted on an actual cost basis.
Equipment and Clothing Required
This Institute provides Mountaineering clothing and technical equipment during courses. In the case of trainees possess some equipment of their own, they are welcome to bring the same. ALL TRAINEES (BOTH MALE AND FEMALE) MUST ENSURE THAT THEY BRING THE FOLLOWING, WHILE COMING TO ATTEND A COURSE:-
Sl
Items
Qty.
(a)
Light Hat for Trekking
One
(b)
Scarf Woolen
One
(c)
Underwear
As required
(d)
Light Weight Rain Coat, Poncho / Umbrella
One
(e)
Woolen and Cotton socks
Two pairs each
(f)
Cotton shirts and trousers
Two each
(g)
Jungle Boots/ Trekking Boots (Avoid PVC soles)
One pair
(h)
Running Shoes for morning PT
One pair
(j)
Torch/ Headlamp with Battery cells
One
(k)
Writing Material (Ball Point Pen & Diary)
As required
(l)
Toilet Requisites
As required
(m)
SunGlasses with Side Cover
At least 02
(n)
Waterproof Cover for Turbans (for Sikhs only)
As required
(o)
Swimming Trunks (essential for Adventure course trainees)
One set
(p)
Nail Cutter
One each
(q)
Anti Chap Cream / Sun Block Cream
As required
(r)
Small Lock for locking cupboard in the hostel
One
(s)
Track Suit
One set (at least)
(t)
Repair kit i.e. Needle, Thread & Buttons, etc
As required
(u)
Cap Balaclava (Woolen)
One
(v)
Gloves (Woolen)
Two pairs minimum
(w)
Thermocot/ Thermal inner
As required
(x)
Passport size photograph
Four
(y)
Laptop computer (useful for AMC & MOI course to prepare expedition planning & presentation slides)
(z)
Hand Sanitizer :
As required
(aa)
Anti Fungal Cream :
One
(ab)
Toilet Paper :
As required
(ac)
Wet Tissue Paper
As required
(ad)
Vaseline
One
(ae)
Thermos Flask (500 ml)
One
(af)
Medical & Hygiene –Due to the spread of Corona Virus aspirant to bring at least 02 x Masks, hand sanitizer and gloves as per requirement for the course duration
Cancellation / Transfer of Course
Following charges would be levied for cancellation/transfer to another course:-
Numbers of days from date of Commencement of Course
Mountaineering Course
Adventure Course
(a)
More than 1 month
Rs 5000/-
Rs 2700/-
(b)
7 days to 1 month
Rs 8470/-
Rs 4500/-
(c)
Less than 7 days
No refund
No refund
Note: Cancellation/Transfer form is available on the HMI website. The same is to be filled up and sent by post/courier. Processing will be done only after receipt of the Cancellation/Transfer form along with proof of course transfer fee. The number of days for calculation of refund would be as per the date of receipt of the form by post/courier.
Request for course cancellation/Transfer received over phone/e-mail will not be entertained.
Reporting and Leaving Date
All trainees must report by EVENING BEFORE commencement of the course and will leave the Institute Hostel after the course Graduation Ceremony on the last day. LATE ARRIVALS EVEN BY ONE DAY WILL NOT BE PERMITTED TO JOIN THE COURSE. Trainees should make their own arrangements for to & fro journey. Candidates arriving before the given reporting date will have to make their own arrangements for accommodation and food as the hostel will be functional from the reporting date.
Duplicate Certifcate / Badges
In case of loss/misplace of course certificate/badge, apply to Principal, HMI mentioning Course Serial No, month & year for a duplicate one. The application has to be accompanied with proof of payment of Rs 500/- towards duplicate certificate/badge and postage charges. Send these documents only through post/courier, the application received via e-mail would not be processed. Clearly mention the address on which the duplicate certificate/badge is to be sent, it would be dispatched on that address by registered post.
All queries/grievances/correspondence to the Institute must be addressed to the Principal and not by name of any Officer / Staff of the Institute.
Telephone: 0091-7602215312 (Working hrs: 0930-1630, Monday to Saturday)
E-mail: hmidarj@gmail.com
Website: www.hmidarjeeling.com
Postal Address: Principal, Himalayan Mountaineering Institute, Jawahar Parvat, Darjeeling – 734101, West Bengal (India)
Insurance Cover for the trainees. Students undergoing mountaineering/adventure courses at HMI Darjeeling(WB) are to get themselves insured for the duration of the course. They must report to HMI Darjeeling (WB) along with insurance papers. The insurance must cover accidents, death, loss of limb any illness/injury suffered while undergoing courses at HMI/field training area. Customized insurance facility for the duration of adventure activity can be facilitated at HMI, Darjeeling (WB) on a payment basis on arrival.
Trainees are forbidden to bring vehicles, families, orderlies, pets, valuables, Jeweler, arms, and large amounts of cash. Trainees are strictly forbidden to consume alcohol or indulge in any kind of addiction during the course.
Parent/guardian coming to drop participants can avail dormitory accommodation on payment subject to availability.