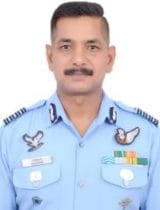 Gp Capt Jai Kishan
Principal
Gp Capt Jai Kishan was commissioned into Indian Air Force in June 1996. He is an alumnus of HMI. He successfully completed his Basic and Advance course from HMI in the year 2001 and 2002 respectively. Keeping the true spirit of the Institute, he kept climbing from Peak to Peak living with the true motto of HMI.

He has participated in various mountaineering expeditions viz. Everest, Lhotse, Mt. Cho Oyu, Mt Elbrus Russia, Mt Deo Tibba, Mt Hanuman Tibba and Mt Frey . He is one among the very few mountaineers in the country who had climbed the highest peaks in the American Continent including Mt. Denali and Mt Aconcagua.

Gp Capt Jai Kishan is an avid Parachute Jump Instructor. Before joining the Institute he was deployed with Special Ops Squadrons to impart Parachuting training to SF personnel of the Indian Armed Forces. In the last two decades, he had undertaken more than 1500 Skydiving jumps. He led the most popular Akashganga and Air Devils skydiving team for various skydiving displays all over the country on various prestigious national and international occasions. He has participated in international skydiving displays like the famous Avalon Air show in Australia and led the Canopy Work display.

His adventure spark and fearless spirit took him to the extremes wherein he has secured a distinguished place both in the skydiving and mountaineering field. On October 28th, 2009 his passion made a unique tryst with Mt. Everest in which he not only participated in the expedition to Everest but he created history by undertaking a skydive jump over Everest Base Camp and established a World Record by landing at the highest landing zone of the world.

He has 6 (Six) World Records, 1 (One) Asian Records and 5 (Five) National Records in the field of adventure sports. In recognition of his world records, he was awarded with the prestigious "Tenzing Norgay National Adventure Award by the President of India in the year 2010.

Gp Capt Jai Kishan took over the charge of Principal, HMI on 17 December 2018. On assuming command of HMI on 17 Dec 18, right from day one, he emphasized uplift and renovation of HMI campus," GO GREEN' concept thus promoting "Clean Mountain Campaign", from Sikkim Himalayas to Andaman Nicobar Islands, He also organised 1st International MTB Cycle Race in Darjeeling, started free Disaster Management training for locals youth of Darjeeling and created a QRT Team,

Dated on 13th November 2021 President of India confers him with Tenzing Norgay Life time achievement Award in recognition of his unmatched dedication in the field of Adventure.